Philosophy
LITEK is glad to continue with its customers the message we started some years ago when LED Lighting became, even in professional lighting, the innovative solution ready to be the source for present and future times.
Since 2007 LITEK serves its customers from the public and private sector with the same passion and willing to create long term relationships, to demonstrate how strong is its belief in the research and development made by its technical department.
And we care for it as best as we can, as we did in the past when each particular element of the manufacturing process needed details and attention to create an unicum which could respond to the new requirements for a new generation of LED lighting fittings.
We continue to propose new lighting solutions and products, coming from recent studies and tests made in the laboratory and in the field, from comparison with our customers, from analysis with partners and suppliers, but even from strong investments, seen that our fixtures have to arrive to the market based on expectations and standards.
Particular thanks to all who believe, cooperate and hold business relationships with LITEK, and our best wishes that these relations can be more of a reason for personal satisfaction, cultural growth and wellness.
With our best regards.
Fabio Facchini e Francesco Blandamura (Litek Srl)


---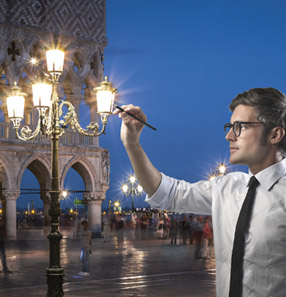 We design custom made solutions
Lighting systems custom made. Outdoor and indoor solutions.
Will to a high level of excellence, reliability, a wide range of ready made products, both for indoor and outdoor settings: these are the features of a technological research headed toward the extension of the highest energy saving performances in the lighting field.
Due to a flexible production process and to a capacity for a productive dialogue with all the operators of the lighting project, Litek leads LED light benefits for urban spaces, covering with softness, savings and low maintenance every place that looks for a new light. An exciting features light, more pleasant, safer and sustainable, thanks to Litek efforts and experience.


---
The best energy efficiency in the market
A perfect mix of functional fixtures, LED sources, optics and power supply systems.
Litek is constantly committed to LED light research and development. Our laboratory tests, the gained field experience, the maximization of the best existing technologies, the proficiency as a method to combine efficiently light sources, optics and power supply systems, aimed at the best performances.
Litek, always concerned with design issues, extends its own idea of style across all the production. A high quality that brings the best craft tradition and products to mind. Under the banner of the excellence Made in Italy in the world.